The STORM line is a feature-rich and extremely price-competitive new video product line. We are offering several new high-quality IP cameras and HD-CVI (high definition megapixel cameras over COAX) cameras as well as a completely new, low-cost video recording platform.
Bundled « All-in-One » NVRs with 2.1 megapixel cameras;
A full line of IP cameras including high definition 2, 3, 4 and 6 megapixel cameras, as well as cameras with Fisheye lenses (with dewarping functionality), motorized auto-focus and true Wide Dynamic Range (WDR @ 120db);
All-in-One NVRs (including integrated POE ports) with 4, 8, 16 and 32 IP channels;
Hybrid DVRs that can support up to 16 analog cameras and 16 IP cameras (or more than 16 IP cameras if less than 16 analog cameras are used)
For your analog camera upgrades, you now have high definition without changing any wiring! STORM offers High-Definition-over-coax (up to 1080P) Tribrid DVRs with 8 or 16 channels and 720P or 1080P (supporting high-definition-over-coax HDCVI cameras and analog cameras in the same video inputs as well as 2 IP channels);
A number of HD over coax (HDCVI) 2.4 megapixel cameras.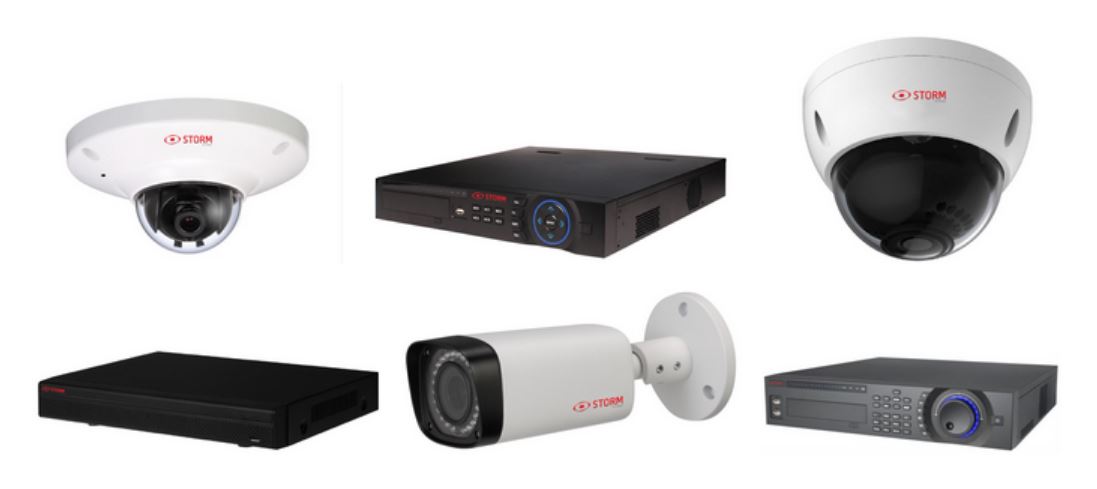 Here are some interesting features of our new STORM product line:

STORM Cloud: P2P QR code on all NVRs and DVRs allows quick and easy access to all the cameras via an IPhone or Android application.
Plug and Play installation: installation and configuration in minutes!
No software fees! No software maintenance agreements! No recurring charges!
FREE client software: allows multiple DVR/NVR connections on ONE software.
All STORM IP cameras are also supported on the IVTVision VMS platform and other popular VMS's.