Access Control Manager
Scalable Enterprise Solution


Access Control Manager (ACM) is a physical access control system for enterprise-class installations, designed to protect people, property and assets. With advanced alarm and identity management, ACM™ provides superior control of access to facilities. This 100% browser-based solution offers the flexibility to respond to alerts from anywhere. Its unification with Avigilon Control Center (ACC) video management software offers a powerful, end-to-end security solution to monitor and secure sites.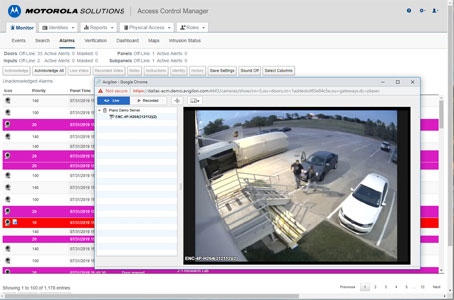 FEATURES
EASY TO DEPLOY AND USE
IDENTITY MANAGEMENT

Display user ID profile pictures with access control events and alarms to know who attempted to enter a door and when. Register visitors and print badges in seconds by scanning an ID via integration with HID Global's EasyLobby Secure Visitor Management software.

REMOTE DOOR LOCK/UNLOCK WITH MAPS

Visually pin access-controlled doors spatially on a facility map, view open/close status of doors and remotely lock and unlock doors, including lockdowns during emergencies.

REPLICATION & HOT STANDBY AUTO FAILOVER

Simplify identity management with the ability to replicate identity data on multiple ACM Appliances across sites. Save policies, settings and identities from any one primary appliance to a standby appliance with hot standby-auto failover.

ACM VERIFY VIRTUAL STATIONS

Extend access control to locations where physical doors are not feasible. ACM Verify enables any browser-enabled device to act as a virtual station by recording and confirming an identity with a PIN.

ALARM MANAGEMENT

Streamline alarm management with audible alerts and colored indicators to visually represent alarm priority. View associated video, enter notes, acknowledge and clear alarms in one place.

BUILT-IN TEMPLATES

Be up and running in minutes with a wide selection of easy-to-use templates to configure doors and wiring.

CUSTOMIZED REPORTS

Leverage ready-made reports that can be customized to display important access control data suited for your facility.


FIPS 201-2 CERTIFICATION

ACM is FIPS 201-2 compliant and is on the GSA Approved Product List with pivClass technology, meeting the PIV requirements for U.S. federal employees and contractors.

REDUCE INSTALLATION COSTS & TIME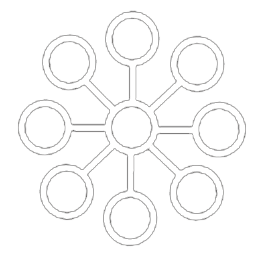 OPEN-PLATFORM HARDWARE SUPPORT

Future-proof your ACM system with open-field hardware from Mercury Security and HID Global.


FLEXIBLE INTEGRATIONS

Save on installation costs with support for ASSA ABLOY, SALTO, Schlage, Simons Voss and Von Duprin wireless locks. Increase security with ViRDI's biometric fingerprint reader technology and Bosch intrusion panels.

ENHANCE SECURITY & SAFETY WITH CONTEXT UNIFIED ACCESS CONTROL & VIDEO

Inform access control events with contextual video. Verify alarms generated by ACM with the associated live or recorded video stream in ACC™ for quicker responses. IDENTITY CORRELATION REPORT

Support contact tracing with a list of doors that a potentially infected person has accessed. Verify at-risk people that have accessed the same doors within a specified time.

ACM & ACC UNIFICATION FEATURES
The unification of Access Control Manager (ACM) with Avigilon Control Center (ACC) video management software provides enhanced security in your facility. Working better together, incorporating a video component helps you to verify access control alarms, informs your access control responses and links visual and physical matches for superior situational awareness.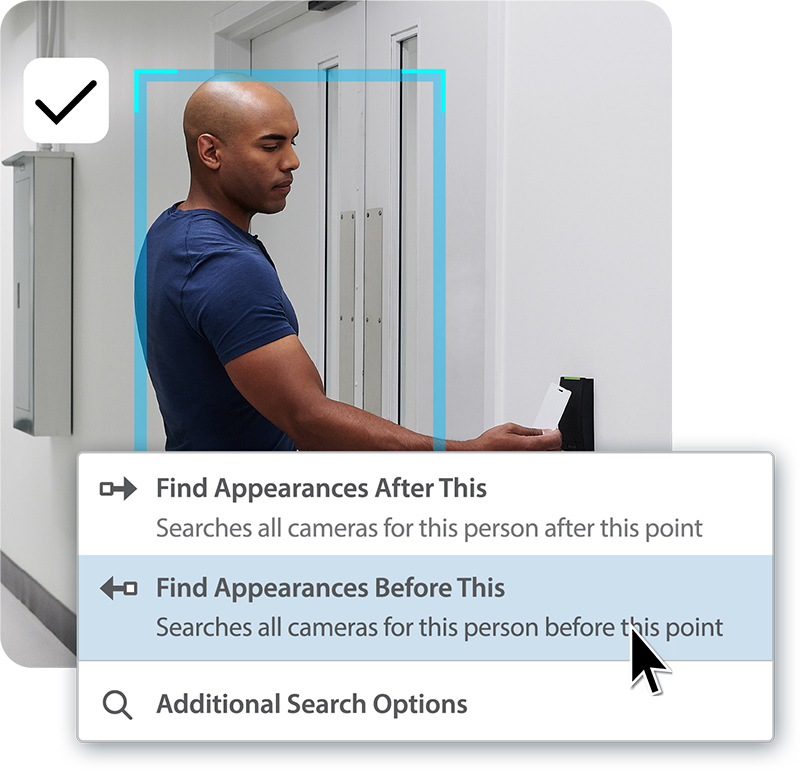 IDENTITY VERIFICATION

Instantly verify if a person seen carding in on camera matches the user ID profile picture associated with the access card they're using. Then remotely lock or unlock the door right from your ACC™ software. H4 VIDEO INTERCOM SUPPORT

Monitor and control access at entry points through two-way audio communication, video verification and the ability to remotely grant ACM™ door access from ACC software. FOCUS OF ATTENTION INTERFACE

Access control events and alarms from ACM appear on the Focus of Attention interface in ACC software to notify you of potential incidents requiring further investigation or a quick response, such as an immediate facility lockdown. IDENTITY SEARCH

Determine a person of interest's whereabouts based on the doors they attempted to access using their card. Launch Avigilon Appearance Search™ from Identity Search to expand your search beyond doors with the ability to find a person in a facility based on physical descriptions. IDENTITY CORRELATION REPORT

Contact trace by combining Identity Correlation Reports with video. Confirm the doors that an infected person attempted to access with their card with Identity Search, followed by Avigilon Appearance Search to understand other areas of the facility they have visited.

STREAMLINED WORKFLOWS

Bookmark, export, and archive video connected to ACM panels, subpanels and inputs to support investigations.

ACM™ Expedite unlocks the power of Access Control Manager (ACM) on mobile devices, empowering operators to manage access to facilities anytime, anywhere. This easy-to-use app was designed for operators to swiftly perform daily operations and respond to critical events while on the go. Securing a facility to protect people and property has never been easier. PURPOSE-BUILT FOR UNIVERSAL USE

ACM Expedite is intuitive and easy to set up, maintain and use by any operator without formal training. Global actions & door commands are customized and defined by the administrator to fit the facility's needs. GLOBAL ACTIONS

ACM Expedite provides operators on the go with quick and easy access to pre-configured actions on their mobile device. Simply tap to remotely grant access, lock and unlock doors, or activate a sitewide lockdown. CONVENIENT ACCESS

ACM Expedite puts the power of ACM in the hands of operators on the go. Operators can quickly take control of a situation from their device to expedite response times during critical or recurring events. DOOR COMMANDS

ACM Expedite allows operators to quickly browse doors, issue door commands, review real-time door status and recent transactions.

Android 5.0 SDK 21 or later / Apple iOS 11.4 or later
ACM 6.22 or later
ACM account login
Device connectivity to ACM Applianc